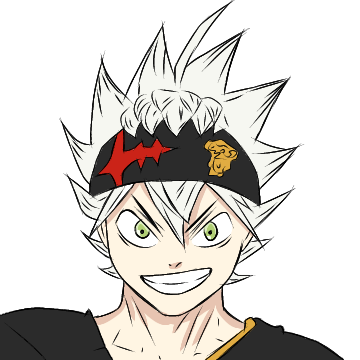 Black Clover
STEP-1
First of all draw a circle.
STEP-2
Now draw these lines it'll help you to locate the area to draw eyes, nose and mouth.
STEP-3
Now start drawing Asta's face beneath the circle.
STEP-4
Now draw his eyes he has big eyes as you can see.
STEP-5
Now draw his nose and mouth.
Draw his smiling face at the end of the circle.
STEP-6
Draw his headband above the circle.
STEP-7
Now draw his hair he has rough looking hair. Some of his hair hanging down from the both side and between the eyes. And draw a series of spiky for his rest of the hair.
STEP-8
Now draw his neck and shoulder.
STEP-9
Now draw his clothes.
STEP-10
Now start drawing outline and don't forget to add a new layer for it.
STEP-11
Now remove the previous rough work layer.
STEP-12
Now colour Asta with white hair black clothes and headband and green eyes.
Devil Jangra

---
---